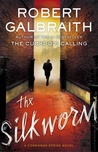 The Silkworm by Robert Galbraith
My rating: 5 of 5 stars
I bought a copy of this book from Amazon.
The Silkworm is the second book written by Robert Galbraith (a.k.a. JK Rowling) and is the second book to feature the character Cormoran Strike. Cormoran is a private investigator who gets hired by Lorraine Quine to look for her missing husband -- the author Owen Quine. Lorraine wants her husband to come home but has no idea where he may have gone. Because it is not the first time Owen has gone missing, Lorraine decides it would be better to hire Cormoran than to go to the police.
As Cormoran tries to find out more about Owen Quine and where he may have gone hiding, he finds that there is more to the story than meets the eye. Owen Quine has just finished a very disturbing book entitled "Bombix Mori" and in that book, he paints very disturbing pictures of people within the publishing world. Suffice it to say that the pictures were not at all flattering and the publishing of the book may destroy a lot of reputations. Then a body is found and it is that of Owen Quine. Cormoran and his assistant Robin are now on a very complicated hunt for Owen's killer.
The book is mostly about writers and the world of publishing. Owen Quine is not a very popular writer because of the type of books he writes. He is very lucky in the sense that his publisher has not yet dropped him as no other publisher appears to want to have anything to do with him. Cormoran learns that there is a lot more to Owen than was earlier believed.
The Silkworm is an interesting "whodunnit." Although the story starts somewhat slow, it does pick up and ends with a twist that I never saw coming. Much like the first book by Robert Galbraith, this one makes for good reading. And, as much as I hate to admit this, I never had a clue that "whodunnit" was actually the one "whodunnit."
Definitely worth a read.
View all my reviews